Investors are rewarded for making good choices. Good choices involve what they will invest in, as well as identifying the areas they avoid. Here is our list of good ideas to profit from and some areas to tread carefully.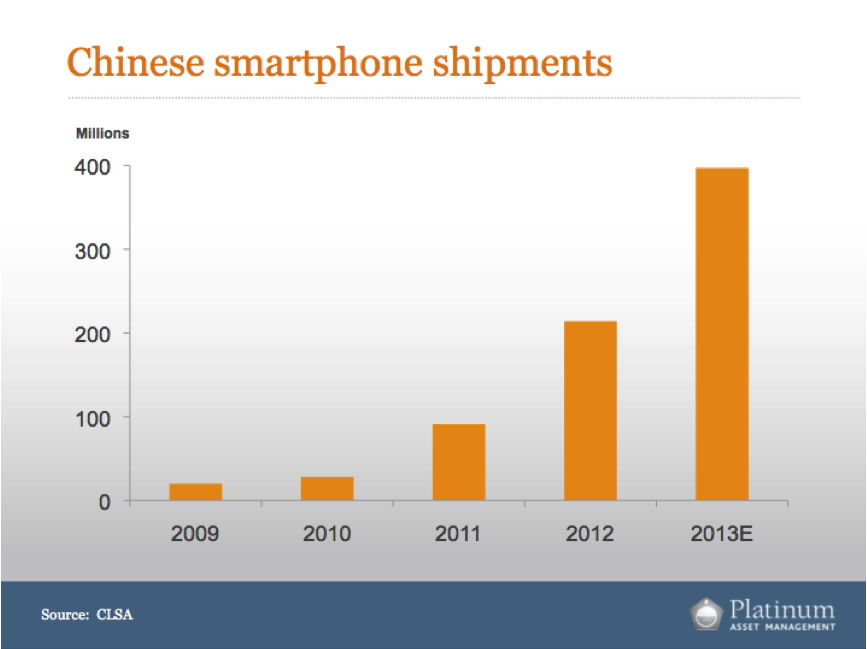 Smart Phone Proliferation to continue in 2014. It is estimated that China and India are to purchase 500 million new smart phones in 2014. Investors should think about how they can profit from thisphenomenal growth that is just not possible from within the Australian phone market.
There will be winners and losers from this consumer change including chip makers, phone manufacturers, social media platforms and other software providers. While identifying the winners from losers will be difficult the upside to this growth is potentially massive.
$AUD likely to continue trending lower. The US economy is showing signs of recovery and the US Federal Reserve has indicated that it will now start slowing down the Quant Easing program. This is likely to result in the US dollar becoming more attractive to investors, which also results in the $AUD falling relative to the US dollar. Other factors that are likely to put pressure on the $AUD include low domestic interest rates, domestic economy under pressure and falling commodity prices. Investors can consider investing in International funds that are not hedged as well as companies that have earnings in US Dollars.
Retail Property under pressure – In the year to November 2013, Australians spent $14.6bn on online retail, which is equivalent to 6.4% of spending with traditional bricks and mortar retailers according to a NAB survey. (excl cafes and restaurants). Growth rates of online retail sales are far higher than traditional retailers. Australian consumers are also highly leveraged. This leads us to be cautious on investment in retail property and existing holdings both direct and listed should be reviewed.
Chinese system remains under great stress. Many well regarded investors including George Soros and locally Kerr Neilson (Platinum Asset Management) have suggested that what has worked to promote Chinese growth in the past, is now under huge stress and that the rate of lending growth is unlikely to be sustainable. A lending slowdown in China (read banking crisis) would most likely result in a slowdown in economic activity in China, which would also probably result in a slowdown in Australia given the significance of China as a trading partner. Australian investors should pay close attention to China, particularly bank shareholders and residential property owners.
Obamacare may result in many more accessing Healthcare in the US which could prove to be very positive for some healthcare companies with exposure to the US. By means of an example, Sonic Healthcare, an Australian company is the third largest pathology provider in the US and could benefit from an increase in patients seeking additional tests.
China's economy is changing from one that is dominated by fixed asset investment (such as building apartments, roads etc) to one that has more emphasis on the consumer. One of China's goals is to double wages over the next 5-10 years which has the potential to dramatically change spending patterns by Chinese consumers. China's reduced fixed asset investment is likely to have a material impact on their demand for steel, coal and other materials. Chinese consumers on the other hand are vast in numbers and to date have spent far less on consumer goods than their Western counterparts.
Inbound tourism into Australia to benefit from a falling $AUD– In bound tourists coming into Australia is likely to accelerate with a falling $AUD. It has been projected that an upswing of Chinese tourists is highly likely in the future with the increase in wealth in China. While many beneficiaries of increased inbound tourism are privately held tourism businesses, there appear to be several listed businesses that are likely to benefit from stronger Australian inbound tourism. (Figure 13 sourced from Tourism Research Australia (Aust Govt) – Spring 2013)
The global population is ageing. This is a global phenomena that has not been witnessed before in modern history. As people age, their demand for healthcare services naturally rises. In Australia the percentage of the population over 60 in the year 2000 was around 16%, and by 2025 it is forecast to be around 25%. In the US the percentage of their population over age 60 is also forecast to rise to around 25%, up from 16% in 2000. (Source UN paper – Global aging 1950 – 2050). There are many excellent healthcare companies that are likely to profit from the ageing of the population.
US Federal Reserve unwinding Quant Easing. The US Federal Reserve have indicated that they will start to reduce the 'money printing' program from $85bn per month. In terms of basic supply and demand fundamentals, this means that the US are looking to reduce the supply of money. Generally when supply of a commodity is reduced, its price rises. The price of money can be measured by interest rates, therefore it can be argued that as supply of money is reduced, interest rates should rise. The effect of rising interest rates could be dramatic as this can affect asset values as well as consumer activity. Investors must pay close attention to this development – we have produced several videos on this topic which can be found on GEM Capital's YouTube channel.
Australian Banks are highly leveraged to the residential property market in Australia, which many respected investors such as Jeremy Grantham (GMO) describe as expensive. With the strong run in bank share prices in recent times we are suggesting that investors review the proportion of their portfolio that is held in Australian Banks. Contrary to popular myth, Banks are highly leveraged businesses and vulnerable to downturns in the economy. We would encourage investors to aim to set a portfolio limit of no more than 20% of their share portfolio in Australian Bank Stocks at the present time.
This information is of a general nature only and neither represents nor is intended to be personal advice on any particular matter. We strongly suggest that no person should act specifically on the basis of the information contained herein, but should obtain appropriate professional advice based upon their own personal circumstances including personal financial advice from a licensed financial adviser and legal advice. Fortnum Private Wealth Pty Ltd ABN 54 139 889 535 AFSL 357306