With the Global Financial Crisis now 6 - 7 years behind us (depending on your view of when it commenced), Australian Consumer Sentiment has experienced its longest poor reading since the GFC.
So too the surveys of the best place to invest show Australian's unwillingness to take on risk through the share market.
Margin Lending, which are loans secured against shares, to leverage up a share market investment are another measure of the investors appetite to take on risk. On a quarterly basis, the Reserve Bank publish the outstanding liabilities in margin loans. You can clearly see that since the GFC, investors have continued to pay down margin debt, and virtually at no time since then has the value of margin debt increased since the crisis.
This would indicate that despite the financial markets showing good returns since 2012, investors animal spirits have yet to be rekindled. Certainly experience in the US appears to indicate that increasing margin debt is correlated to rising share prices. This will be an interesting aspect to watch for in Australia.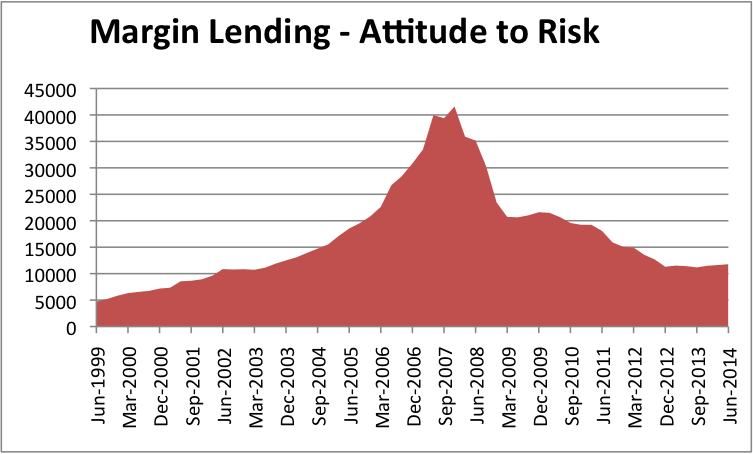 Source: Reserve Bank Statistics - September 2014
This information is of a general nature only and neither represents nor is intended to be personal advice on any particular matter. We strongly suggest that no person should act specifically on the basis of the information contained herein, but should obtain appropriate professional advice based upon their own personal circumstances including personal financial advice from a licensed financial adviser and legal advice. Fortnum Private Wealth Pty Ltd ABN 54 139 889 535 AFSL 357306