Sourced from an interesting article in "The Economist" recently, here is a chart showing global growth rates of varying technology over the past 15 years including internet as well as smart phones.
Clearly the highest growth, and the largest coverage of users within the world is in the mobile/smart phone sector.
The following chart shows the growth of mobile phone sales in China for the 5 year period until 2013. It is estimated that over 500 million smart phones were sold in China and India in 2014.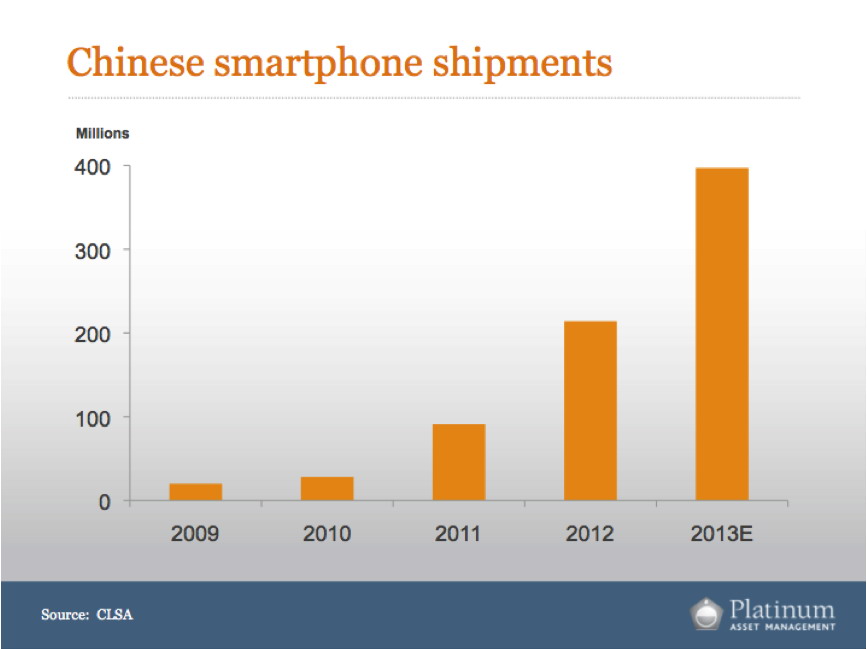 The message is clear in the charts that mobile phones and mobile internet is here to stay and is changing the way in which consumers behave around the world.
What does this mean for business and investors though?
We briefly pose some questions that are worth considering.
1. For businesses that you run or invest in ..... is the business a beneficiary or threatened with the move to mobile internet? For example, any business owner with a website should ensure that their website is mobile friendly as Google have recently announced a change to their Google search that will favour those with mobile friendly websites.
For investors, are the companies you invest in embracing mobile technology and offering services to their customers through it, or are they likely to be canabilised by it?
2. Who are likely to be beneficiaries from this change (other than the obvious handset makers such as Apple)? For example social media companies in China and India etc
3. Is your current investment strategy capturing this amazing growth?
Clients of GEM Capital have enjoyed good returns in the last few years, partly due to their exposure to global technology companies who are benefitting from the technological change that is underway.