It has been rumoured in many media outlets that Amazon will commence operations in Australia next year. Richard Goyder (CEO Wesfarmers) has often quipped that Amazon won't just 'eat our lunch, they will eat breakfast and dinner too'. So with such a large threat to the status quo of retailing in Australia, many of whom enjoy some of the largest retailing margins in the world, we examine what this may mean for investors.
It may comes as a surprise that online penetration is less than 15% in most developed countries - in fact many countries online presence is below 10%.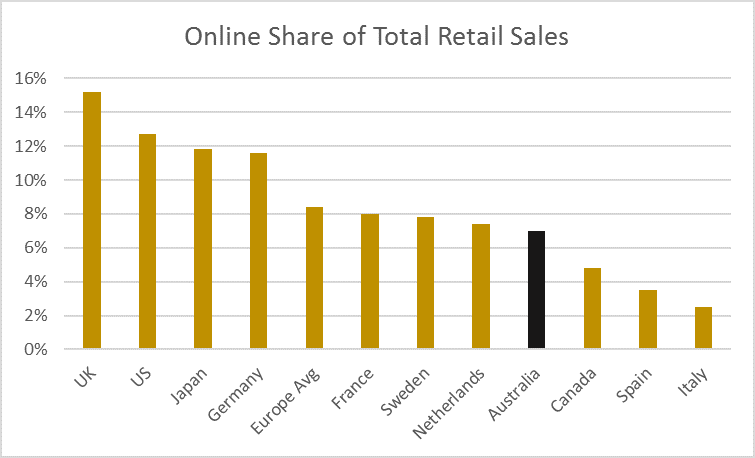 Source: Forager Funds Management
Clearly when Amazon commences operations in Australia, there will be much fanfare, but investors need to ask how much market share are they likely to pick up. the next chart shows Amazon's share of online retail sales. While Amazon is the largest online retailer in the US and Europe, it by no means has a majority share of these markets. Globally it tends to gain about a 15-20% share of e-commerce. If the same mathematics was applied to the Australian market, Amazon could expect to gain around 1 - 1.5% of total retail sales.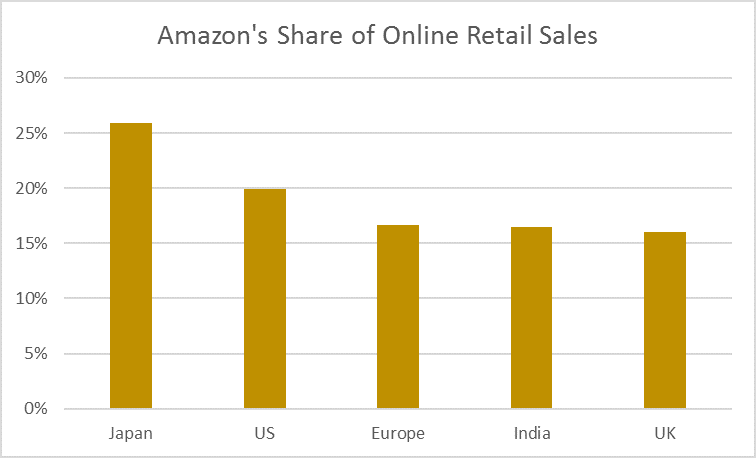 Source: Forager Funds Management
Finally we consider that not all retailing is equal when approaching the idea of online sales. The furniture division of Amazon has been a 'disaster' while apparel and electronics have shared greater success. When we approached the subject with senior management at Perpetual, they said "Fresh Food would be almost impossible for Amazon". The last chart is a summary from the Aust Financial Review outlining the view of Citigroup of the market share that Amazon is likely to gain in each market segment. The chart also highlights an estimate of earnings lost by the incumbent retailers assuming these market share estimates prove correct.
We have nothing but respect for Amazon and their business model, and investors are encouraged to ensure that their investment strategy takes into account the likely entry of Amazon into the Australian market in 2017.