Every month Mark Draper (GEM Capital) writes a column for the Australian Financial Review. Here is the column that featured in the month of September 2019.
Often investors accept a simple thematic to determine their investment view on an entire sector. Amazon's entry into Australia was to be the death of our retailers, but JB Hi-Fi and Super Retail Group's recent good results have defied this theme.
A common investment theme is that the internet will turn shopping malls into museums and investors in retail property will be left with a worthless asset. Those who believe such a simple thematic without further investigation could well be passing up high investment income from some attractively priced retail property assets.
The bears of retail property will refer to the US experience of shopping malls being closed and 5 – 6,000 shops going out of business last year as reasons to avoid the sector entirely.
While it is true that US shopping malls are closing, Hugh Giddy (Investors Mutual) and Hugh Dive (Atlas Funds Management) believe that it is dangerous to extrapolate these closures across the entire global retail property sector as the US retail property market is over supplied. This was due to overbuilding of malls between 1970 and 2015 where the number of malls in the US grew twice as fast as the population. The chart below shows the level of commercial retail space in the US per person, compared with other countries.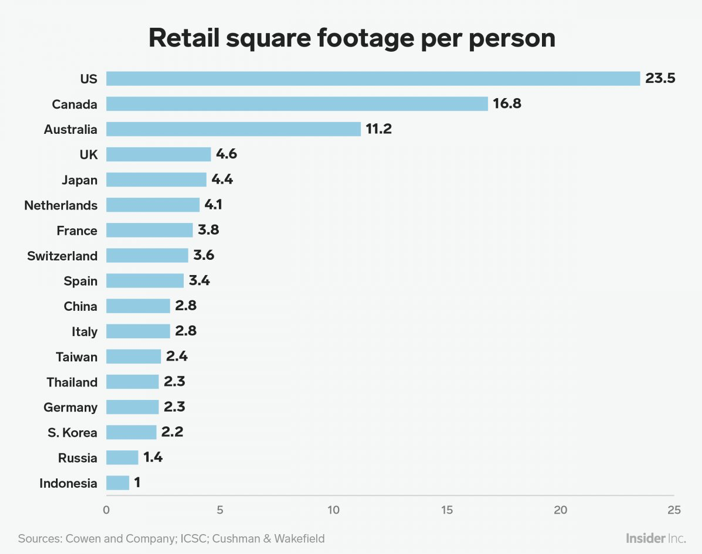 Dive says "the thesis that all shopping malls are ruined and are going down, doesn't account for the changing composition of tenancies". The better shopping centres are changing their tenancy mix to include more services and experiences. This is likely to appeal to a wider audience including the Millennials who are less focussed on "things" and more interested in experiences.
Dive adds that "the good shopping centres are placing more emphasis on dining, entertainment, fitness, massage, healthcare and education services – things that can't be easily delivered online"
Giddy says that "traditionally shopping centres were anchored with department stores and fashion apparel shops but those tenants are reducing space which is being taken up by medical centres and other service providers." Cinema admissions are still strong, and consumers are attracted to the shopping centres to watch movies. Giddy asks "why are people still going out to the movies?, because they don't want to only watch a movie on DVD or Netflix, it's a social experience".
Giddy points out that the shopping centre sector is turning into 'the haves and the have-nots'. The 'haves' are the centres that are well located in densely populated catchment areas, near transport hubs offering a diverse range of shopping and entertainment experiences. He quotes Chadstone, Bondi Junction, Westfield London and Pitt Street Mall as examples of 'the haves' which are very high quality centres that have no problem filling their locations with shoppers and tenants. This provides investors with high occupancy rates and rental income certainty.
The 'have-nots' which should be treated with caution, are typically located in regional locations with low catchment population, offering a narrow range of shops and services.
The strong shopping centres are also building residential apartments over them to capture value from the air rights over their centres. Dive said that "Vicinity plans to build 900 apartments over the Chatswood shopping centre to capture value from the air rights. In 2017 Vicinity also sold the air rights to a developer for $60m over their Melbourne shopping centre, and this development should be completed by 2020." Not only are the shopping centres capturing value from selling air rights, but they are also capturing additional shoppers who will reside within the shopping centre complex.
Investing into retail property can be through owning individual listed property trusts such as Scentre, Vicinity and Unibail Westfield or via managed funds and ETF's. Unlisted property trusts are unlikely to offer access to the type of retail properties described as 'the haves'.
The risks to retail property investors include prolonged economic downturns that result in reduced consumer spending although Giddy says "during the GFC the Westfield Group held up quite well". Continued online competition will put pressure on the amount of bricks and mortar retail space required but Giddy argues that consumer brands are still going to want to have physical presence in the premium shopping centres as a branding opportunity.