Mark Draper (GEM Capital) writes a column for the Australian Financial Review every month. Here is his column that featured during the month of September 2019.
What do Amazon, Google and Microsoft have in common? They are all huge players in the world of global cloud computing. Most would associate Amazon with online shopping and yet Amazon's cloud business generates more than 50% of group income at a margin of 28%, and the most recent quarterly revenue grew by 37% from the previous year . Very few large businesses have the capacity to grow at this rate.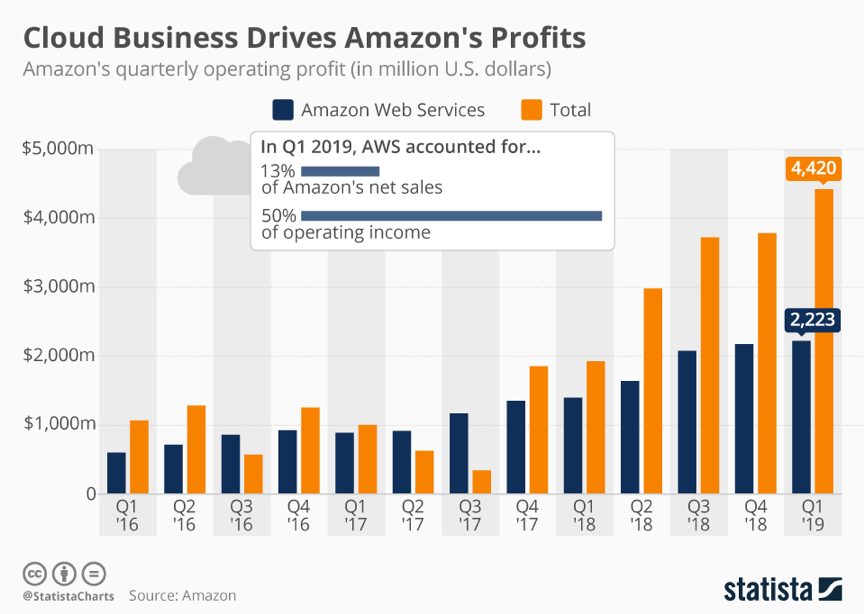 Cloud computing is defined as using a network of remote servers to store, manage and process data, typically delivered via the internet rather than using a local server or personal computer.
The simplest example of cloud computing is business email. Many businesses used to run their own email servers where they would buy the server hardware, buy the email exchange software and then pay an IT specialist to install and manage the email service. That can all now be replaced by using Microsoft's Office 365 which is a cloud based solution. In essence cloud computing results in businesses and consumers renting services rather than owning the hardware and software.
The benefits of using cloud computing are that consumer and business users do not need to incur a large upfront cost to buy hardware and software and instead access these services more quickly, reliably and securely than traditionally. It is often less expensive for users to access services from the cloud. It is these reasons that provide optimism for the continued growth in the cloud.
From an investors perspective, it is important to identify 3 key segments of cloud computing. Infrastructure as a Service (IaaS) delivers computer infrastructure on an outsourced basis. Typically IaaS provides the hardware, storage, servers and compute services. Secondly, Platform as a Service (PaaS) includes application development, security, databases, analytics and tools that the applications depend on to work. Differentiating between IaaS and PaaS is difficult as they are often provided by the same company. The 3 dominant players in these segments are Amazon, Microsoft and Google.
Scale is important for IaaS/PaaS players to support the operation of large, globally distributed data centres and the development of complex software underlying the rapidly expanding functionality of IaaS/Paas. Kris Webster, (Portfolio Manager Magellan Financial Group) believes that the market outside of China will be dominated by Amazon, Microsoft and Google for that reason. He says that the current annual revenue from cloud computing infrastructure is below US $100bn but forecasts the addressable market by 2030 to be US $800bn per year.
Finally, Software as a Service (SaaS) is also known as cloud application services in which end user software is rented on a subscription basis and is centrally hosted. Common examples of SaaS are Adobe Creative Cloud and Dropbox. Before the cloud, Adobe Professional suite of software would attract an upfront cost of well in excess of $1,000. The high upfront cost often led consumers to pirate the software. According to Webster, "Adobe has done a terrific job at bringing in the pirates to its network and thereby generating additional revenue, by charging a more affordable $50 monthly subscription".
Other common examples of SaaS are music subscription services and video on demand services such as Spotify and Netflix.
Andrew Clifford (CEO Platinum Asset Management) highlights that many SaaS companies trade in the range of 15 – 25 times sales (not earnings). He believes that the likelihood of any company growing fast enough for long enough to justify such valuations is very low.
Platinum are instead investing in companies that produce memory chips for computers and data centres that stand to benefit from the growth in cloud computing. Some of these businesses can be purchased on single digit earnings multiples. Platinum are also significant investors in Alphabet which owns Google.
Risks to the investment case for cloud computing exist if the switch to cloud computing is slower than forecast due to security or other concerns. Counter to this point NAB's IT executive Steve Day said recently "the cloud providers have realised they are so large, they can invest in the sort of security a bank like NAB could only dream of".
With forecast growth of cloud computing of over 20%pa over the next decade, investors can not afford to ignore this sector.